Here's a picture of an "essential" government worker blockading veterans from their own memorial.
We all remember this, right?
The White House announced Tuesday that it is canceling tours of the president's home for the foreseeable future as the sequester spending cuts begin to bite and the administration makes good on its warnings of painful decisions.

Announcement of the decision — made in an email from the White House Visitors Office — came hours after The Washington Times reported on another administration email that seemed to show at least one agency has been instructed to make sure the cuts are as painful as President Obama promised they would be.
The President of the United States, embittered by Republicans and refusing to negotiate, is purposely harming the American people in hopes of scoring political points.
In the words of one park ranger: "We've been told to make life as difficult for people as we can. It's disgusting."
It certainly is.
And who better to bully than four bus-loads of WWII veterans showing up to see their own memorial?
The memorial was almost entirely funded by private donations.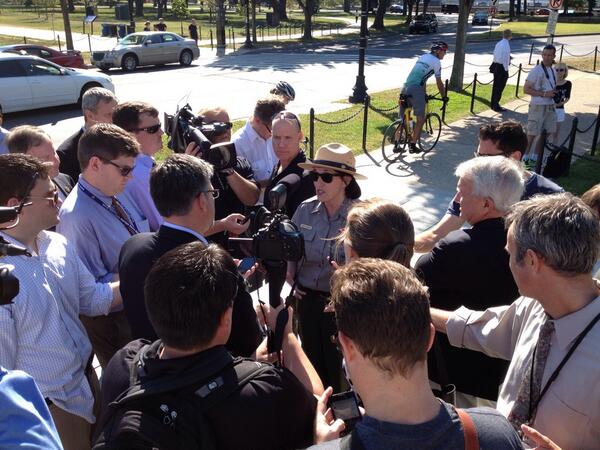 National Park Service (NPS) Spokeswoman Carol Johnson, confirmed they were instructed by the Office of Management and Budget (OMB) to shut down the memorial .  The OMB answers directly to the president.  In fact, all of these blockaders were exempted from furlough so they could be there to stop these heroes from entering:
Thanks in part to a few members of Congress who moved the barriers, the vets made it inside.
The Park Police apparently abandoned Obama's vet-blockade and refused to arrest a bunch of wheelchair-bound patriots.
Disgusted by the way these heroes were treated, Republicans offered legislation that would keep our national memorials and parks open.
Harry Reid blocked it.
Obama threatened to veto it: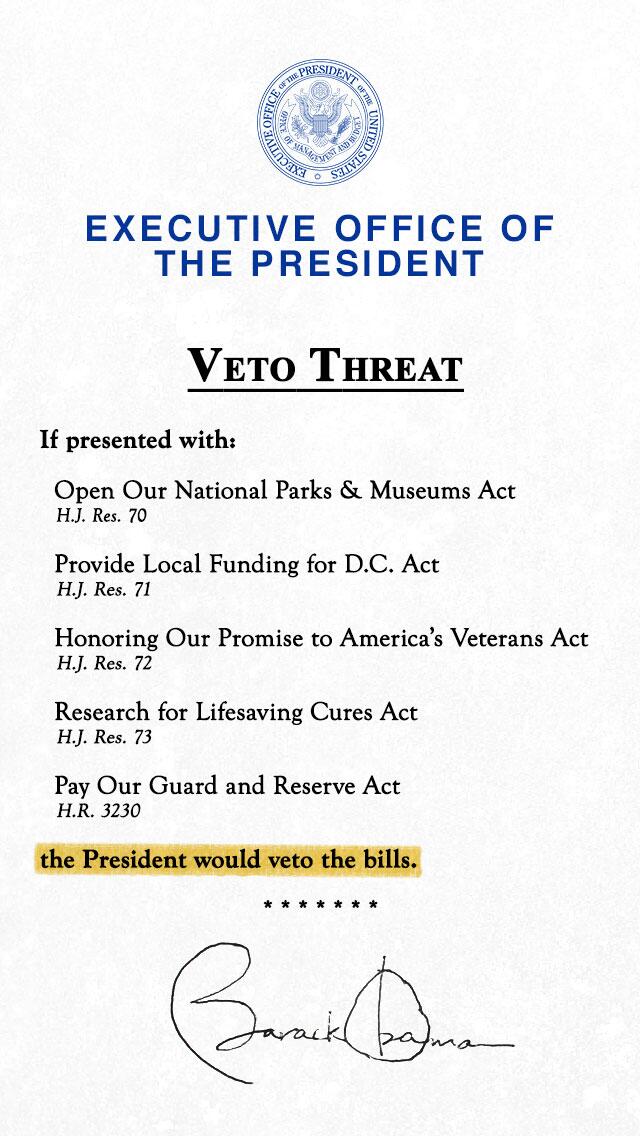 What a petty man.
Yes, he also threatened to veto a bill that would ensure active-duty military personnel are paid during the shutdown.
You see, the people have to be punished.  It just so happens that he enjoys punishing his military.
The WWII memorial barriers have since been reinforced.
They've also attempted to blockade Mount Vernon, which is privately owned by the Mount Vernon Ladies' Association and receives no government funding.
Oh.
And the other group of Americans that must now pay their "fair share" of pain are children suffering from cancer.
Seriously.  Just watch:
Passing a short-time fix to ease the pain of children suffering from cancer is unacceptable to Obama and Reid because they don't get what they want.
"Why would we want to do that?"
Unreal.
UPDATE: The Obama Administration has closed the Grand Canyon, and refuses to open it even after Arizona offered to pay for it.